Ever wonder who all those people were on the famous cover of the Beatles'
Sgt. Pepper's Lonely Hearts Club Band
?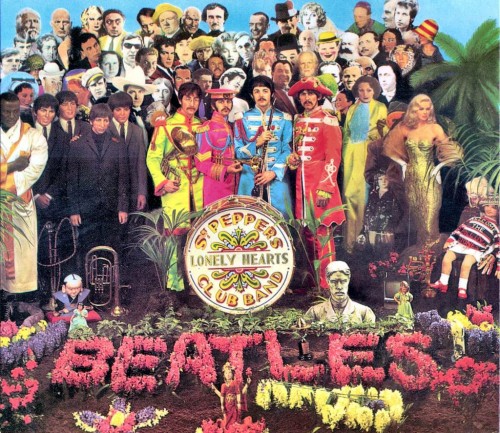 Yep, these people.
Eddie Deezen offers some background information about the album cover; read some below and continue over at
Neatorama
:
It is the most famous rock album cover of all time: The Beatles'
Sgt. Pepper's Lonely Hearts Club Band
. One of the many things that still fascinate us about this incredible album is the cover. The concept for the cover was called "people we like."
According to artist Peter Blake, the designer of the iconic
Sgt. Pepper
cover: "In my mind I was making a piece of art rather than an album cover. It was almost a piece of theater design."
Blake continues: "I offered the idea that if they had just played a concert in the park, the cover would be a photograph of them with the group who had watched the concert. If we did this by using cardboard cutouts, it could be whomever they wanted."
Each of the four Beatles was told to compile a list of people they admired, and their choices would all be featured on the album's cover. Ringo, always the least pretentious of the four, declined right off the bat. "Whoever the others choose is okay with me," Ringo said.
John Lennon's off-kilter mind immediately came up with Adolf Hitler and Mohandas Gandhi. Hitler was immediately nixed for obvious reasons. But, incredibly, a paper cutout of Adolf Hitler was actually made and was there at the photo session on March 30, 1967. Legend has it that Hitler was actually in the final shot, but during the session, one of the Beatles stood in front of him, covering the camera's view. Gandhi got the axe by EMI executives, believing it would hurt album sales in the Far East.
George, "the mystic Beatle," of course, chose four Indian gurus. Bob Dylan was a clear choice by all the Beatles, who worshiped Dylan.
Fred Astaire was definitely a "Paul" choice. The legendary dancer was an easy sell and was reportedly delighted to be featured. However, despite Paul's initial assurance to EMI that all the requested "guests" would "love to do anything to please us," several of the chosen figures gave EMI more than a bit of difficulty. Shirley Temple asked to hear the finished product produced before giving her consent.
The Beatles all wanted Mae West to be on the cover, but she was apprehensive. "What would
I
be doing in a lonely heart's club band?" Mae asked. To placate the legendary sex symbol, all four Beatles wrote and signed a letter to Mae, and she finally agreed.